Welcome to ForwardMail

Email Forwarding Software ForwardMail
ForwardMail is an email forwarding software that allows you to forward email messages or attached files from an email account to another. It provides a wealth of settings for header modifications, attachment processing, content conversion and special forwarding mode for use on mobile devices. You can also limit forwarding to specific messages by setting up custom filters based on the sender, subject, header and other message details.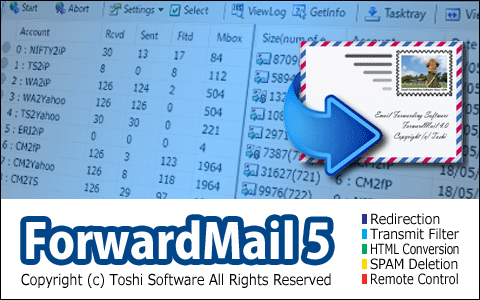 Three Versions Selectable
An appropriate version can be selected in accordance with your use case.
* ForwardMail 10 Account Version: Suitable for personal users
* ForwardMail 30 Account Version: Suitable for advanced users
* ForwardMail 100 Account Version: Suitable for system administrators
Main Features
Redirected forwarding
* Keep the header information of incoming emails after forwarding.
* You can reply to the original sender by simply clicking "Reply" button of your email client software.
Multiple forwarding accounts available
* 10/30/100 forwarding account versions selectable.
* Forward emails from a mailbox to multiple separate addresses with separate filter settings.
Various filtering options
* Filter by email address, email size, subject, time zone, sender's email client, etc
* Strip unnecessary attached files
* Support various spam blocking filters.
Useful features for smartphone or iPhone
* Convert HTML message and URL links to plain text easily readable with small display.
* Strip unnecessary attached files by specifying its file extension.
Useful features for feature phone ( SMS )
* Remove unnecessary letters or strings.
* Divide emails to forward by specified mail size.
* Remove citation lines.
* Convert HTML email to plain TEXT message easily readable with charactor-based small display.
Remote control function
* Suspend or resumes forwarding by sending a special email to the account.
* Send back the account status report when accepting the command email.
Account management function
* Manage account settings by 'template' option or general 'CSV file'.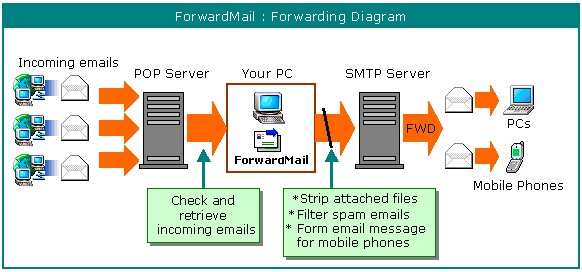 Requirements
Host Platform
Windows 8 / 8.1 / 10 / 11 (32/64bit)
Supported Protocol
* POP3(APOP Authentication) and SMTP(LOGIN/PLAIN/CRAM-MD5 Authentication) are supported.
* SSL (secured email) is supported.
* IMAP4 or WEB-based mail system is NOT supported.

How to install / uninstall ForwardMail
Installer Program

You can launch setup program by simply double-clicking the icon. The 'Windows Installer' setup program starts automatically. You can remove this program by "Add/Remove Programs" of Control Panel.
Simple ZIP File

No installer program is included in this ZIP file. Unzip the ZIP file into a folder you like. In the unzipped folder, you can find two executable files. "FwdMail4.exe" is the main program and "FwdView.exe" is the viewer of forwarding log. Be sure that those two exe files should be placed in the same folder. To remove ForwardMail from your PC, you can simply drag & drop the unzipped folder into the recycle bin. This operation will cause no problem for your PC because ForwardMail uses no system registry.