Fender Stratocaster USA-made and Japan-made comparison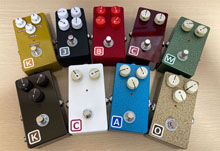 This is a list page of the effect pedals that I made. You can see articles on how I made them for each board type (universal board, through hole / surface mount printed board) and enclosure size (normal, mini).
Find an article about your favorite effect pedal.

My first Stratocaster 'Fresher' !


My first Stratocaster was by a maker called 'Fresher' (Old Japanese manufacturer). That was displayed in the window of a record shop when I was in junior high school ( years ago), and it costed about US $ 200. The color was cream (yellowish white) and the body is made of plywood called 'Lumber Core'. I think it was a toy-like guitar.
At that time, a guitar made by a manufacturer called 'Greco' was popular among middle and high school students in Japan, and I really wanted to get the logo, so I bought only the neck of Greco's Stratocaster and attached it to the fresher. Then I changed the pickup to a humbucker and handmade the pickguard with an acrylic board I bought at a nearby hardware store. It's a pretty fun memory.

American Standard II Stratocaster!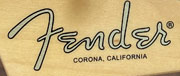 I bought a Fender Stratocaster made in Japan in 2006 (the company name was Fender Japan at that time) and used it until 2020. Its frets are reduced and high positions tend to be chattering, but everything else is fine. You can find it in this comparison article.
COVID-19 made it impossible for me to travel as a hobby, and I'm spending more time at home. The American Standard 2 made in USA was released here, so I bought one. (One of the reasons is that I had a 15% off sale at a musical instrument store.) I chose the color "Olympic White", which is close to the color of the fresher I bought first.

I'm years old, so it may be the last electric guitar to buy. I want to take good care of it.

Fender Stratocaster Country of origin


There are three types of Fender Stratocasters: USA-made at the Corona factory in the United States, Mexico-made at the Ensenada factory in Mexico, and Japan-made at the Japanese factory (An OEM, Dyna musical instrument factory).
Currently, all guitars are supervised by the American builder at the head office and sold under the control of Fender Music Corporation.
There is a report on the USA Corona Factory Tour on YouTube. I thought it was an automated factory, but surprisingly I found that there was a lot of manual work.
About my stratocasters

Stratocaster made in Japan (blue on the left)

Fender Japan ST62-TX
Purchased in 2006, US $ 800.
The 1962 model is the basis of the design.
USA-made Stratocaster (white on the right)

Fender American Standard II Stratocaster HSS Purchased in 2020
US $ 1800
The latest model in 2020.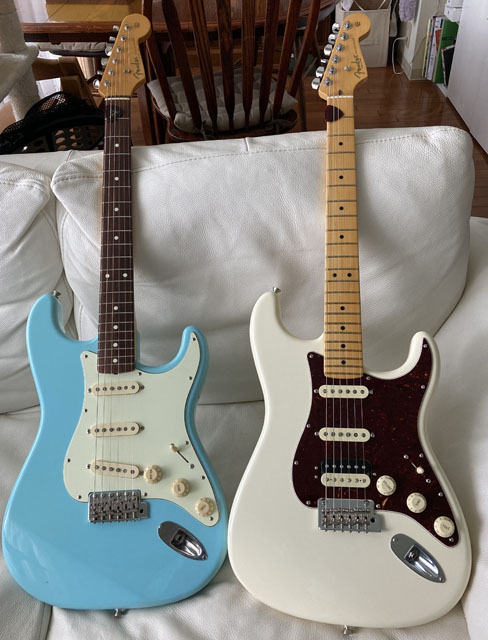 Is a USA-made strat a better stratocaster? Compare Japan-made / USA-made

This is a frequently asked question. A long time ago, USA-made models were genuine, and Japan-made and Mexico-made models were like copy models, and some people even called them fake. Forty years ago when I was a kid, USA-made fenders were expensive and could never be bought, so older people may still have that feeling. I don't think young people today care about the country of origin.
The design of the Stratocaster of my Japan-made is based on the model made in 1962, and the design of the Stratocaster of my USA-made is based on the new 2020 model. They look the same, but the details are completely different. The price of USA-made is obviously more expensive, but it doesn't feel like a better guitar.
First, compare the appearance

I tried arranging two of them. Since the color and fingerboard are different, the characters are naturally different. I don't even have a particular favorite color used by some famous guitarist. The blue guitar I've used for many years (certainly named Sonic Blue) is still a color that suits me. The new Olympic White feels nostalgic and warm to me. I can't decide which is better.

Compare heads

The pegs are different because the design of my Japan-made is base on the 1962's model and my USA-made is based on the 2020 latest model. USA-made with a large handle turns lighter and has a sense of stability. Functionally, the tuning is stable even for products made in Japan, so there is no big difference.
The latest USA-made tuning pegs have a higher (longer) shaft on the 5th and 6th strings than the 1st to 4th strings.
The difference in the logo is that USA-made has the name of the factory as "Corona California" and the serial number on the back. You may be satisfied that you bought the original USA product, but I don't think it will affect the sound.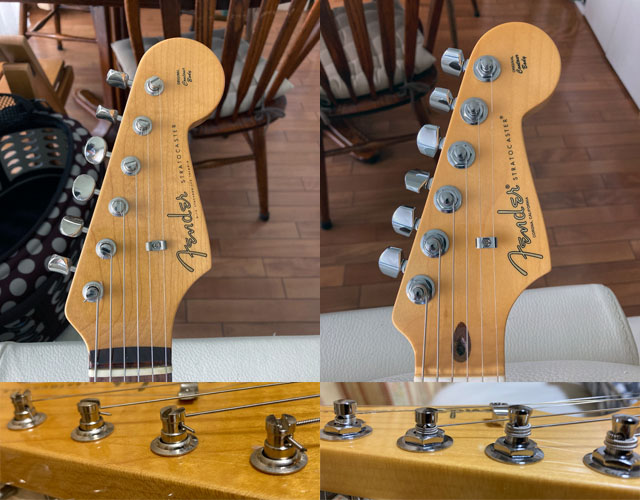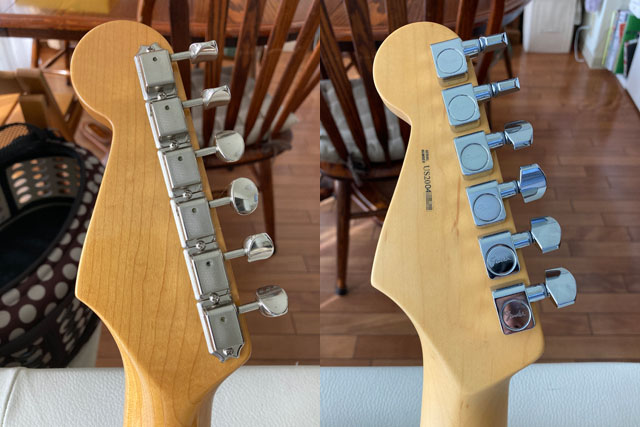 Compare flets

There is a big difference in the frets. The Japan-made Stratocaster, which is based on the '62 model, has thin and low-height "Vintage" frets, and the USA-made one has wide and high-height "Medium Jumbo" frets. Comparing the two, I think USA-made is better for sustaining the sound, especially when sliding the strings. Therefore, I feel like I can play it easily. The string bending feels smoother with USA-made because the fingers do not hit the fingerboard. Also, the number of frets is different, 21 frets for Japan-made and 22 frets for USA-made. When choosing a guitar, you should be careful about the frets.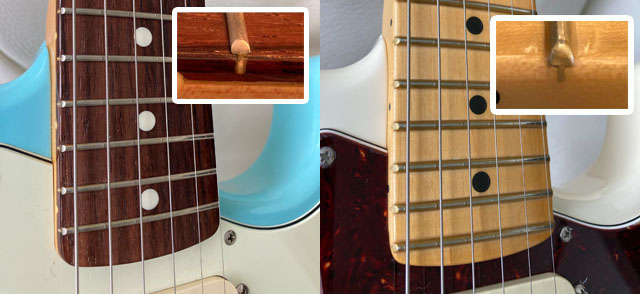 Comparison of neck and joint

The neck of Japan-made is U-shaped and round, with a slightly thicker shape. In addition, it is made of thick polyurethane resin, which makes it shiny and firm. On the other hand, USA-made's neck is called 'Deep-C shape', and its neck is thin. The paint is thin and silky (called satin finish) and easy to grip, but it is vulnerable to scratches and dirt and feels delicate.
Since the neck has many troubles such as warping and twisting, some people say that thick polyurethane is better in a humid country like Japan, but I do not know if it is true. For Japan-made, there is a serial number at the base of the neck.
The neck and body joints are both screwed, but USA-made have cut corners to prevent the thumb from getting caught. I think this is certainly easy to play in the high position.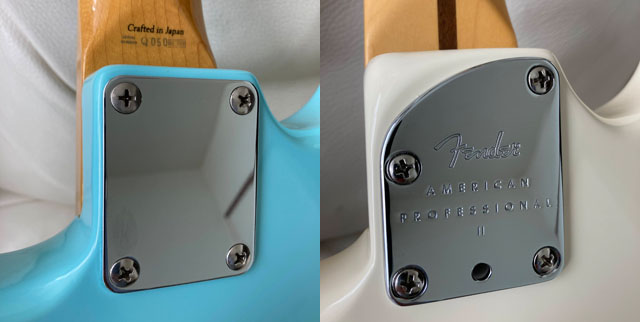 Compare pickups

The difference in appearance of the single pickup is as shown in the photo. the 2006 "USA TEXAS SPECIAL" pickup is attached for Japan-made and its top of the magnet pole is cut flat. It comes with the newest type of pickup in 2020 (it seems to be called'V-Mod II pickup') for USA-made and its tip of the magnet pole is rounded.
I don't know the difference in tone, but I feel that USA-made has a larger output. Probably, the volume "8" of USA-made and the volume "10" of Japan-made are about the same. The effect of overdrive distortion is clearly different. For those made in Japan, the magnet may be weak due to aging, but I'm not sure.
Compare bridges

The bridge of Japan-made is vintage specification and is fixed with 6 screws, and the bridge of USA-made has a floating structure with 2 supports (it is hooked on the U-shaped notch). I think USA-made is more stable in terms of the lightness of the tremolo arm (whammy bar) and the tuning error. It's been over 15 years since I bought Japan-made, so it's rusting nicely.


Comparison of knobs and switches

As you can see, it's almost the same. Since USA-made is HSS, the third TONE knob is a single / humbucker selector switch. When you press the knob, the knob pops out so that you can see the mounting screw below, and it switches to single. The roughness and boldness of this switch gives it a nice American feel.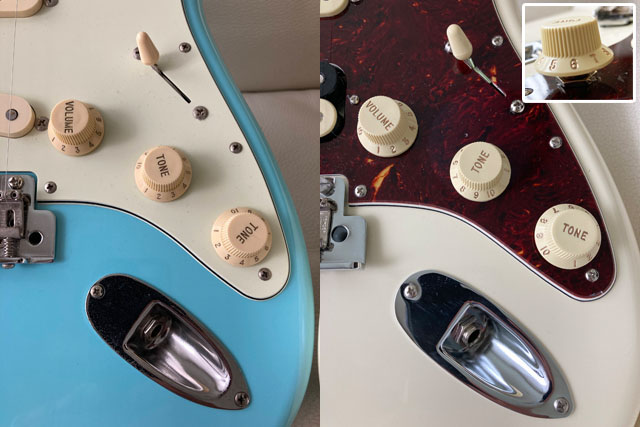 Comparison of back covers

As you can see in the picture, the tremolo arm cover on the back side has a different hole. Replacing the strings may be easier with a square hole of USA-made, but I don't think it makes a big difference.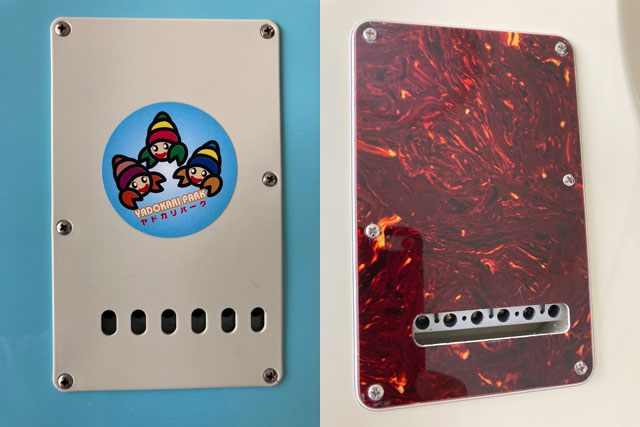 Internal wiring of USA Stratocaster
As an additional information, on the back of the US-made Stratocaster's pickguard is the wiring shown in the photo. It is very complicatedly hand-wired. I don't know the reason, but it has a structure in which the board with the chip component resistor is soldered to the pot. It's a fairly rough and inefficient structure.

Finally
I compared the Stratocasters made in Japan and made in USA that I own. The USA-made one seems to be more playable and maintainable. But when asked which one I like, I can't say either.
Buying an expensive instrument does not mean that you will play well. Musical instruments are used for a long time and fit in your hands, so I don't think it makes sense to stick to products made in Japan or USA. I think it's wrong to buy an expensive guitar that is intentionally aged, such as one made by a custom shop, and feel like your own history or misunderstand that you're good at playing.
Recently, I've been staying at home because of COVID-19, so I have time to play the guitar every day. It's been years since I first bought a Stratocaster at the age of 14. I will use both of these carefully until I get old and my fingers get stuck.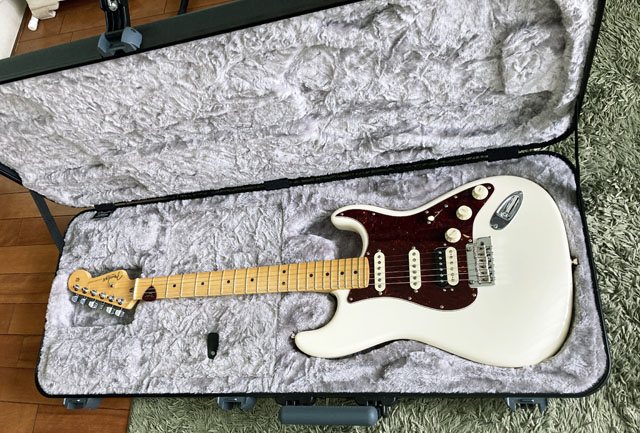 The Fender USA Stratocaster comes with a hard case like the one pictured above. It is made of plastic and has a TSA lock key. The case itself is light and durable. It is made in China.